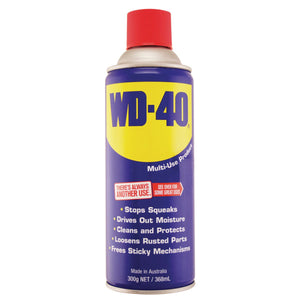 When it comes to making the most of your can of WD40 here are just a sample of what it can do:
Lubricates - WD-40's lubricating ingredients keep parts moving smoothly and reduces friction and wear, helping parts work better for longer. WD-40 does not contain silicone and is ozone friendly.
Cleans - WD-40 gets under dirt, sap, grime and grease to clean while forming a corrosion resistant barrier. It also dissolves glue and adhesives, allowing easy removal of labels, tape and stickers from most surfaces. Just spray and allow it to soak for several minutes before wiping off.
Protects - WD-40 contains corrosion resistant ingredients that shield metal surfaces against moisture and other corrosive elements.
Penetrates - WD-40's fast acting ingredients penetrate into rusted, stuck, frozen and seized up parts, allowing you to quickly loosen bolts and keep parts working freely.
Displaces Moisture - WD-40 is non-conductive and works by displacing moisture in electrical systems, eliminating moisture induced short circuits.