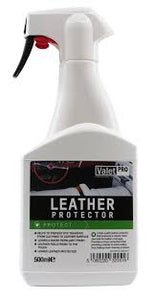 Leather Protector prevents UV damage, dye transfer and stains from all interior leather surfaces including the vehicle seats and door cards.
Designed to keep leather feeling soft, natural and non-greasy; this protector is perfect for all vehicles old and new. It leaves a deep, classy finish and unlike many other products on the market does not leave the surface shiny and looking fake.
Application is easy, simply spread the product with a foam applicator or microfibre cloth and remove the excess after up to 5 minutes.