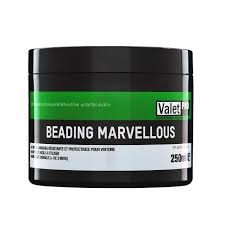 Beading Marvellous is an easy to use paste wax, hand made in the UK. Blended with both Carnauba and Polymer, this wax produces an amazing shine and as the name suggests it beads water like crazy.
Beading Marvellous is easy to apply and a little goes a long way. Great on all colour cars and provides up to 3 months of protection and shine. This 250ml pot will coat an average sized vehicle 10+ times.
This is truly our highest shine wax available.