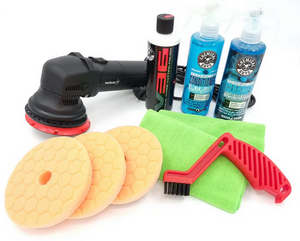 A great Starter Kit at an amazing price.  You get:
1x Rockcar 12mm Dual Action Random Orbital Polishing Machine - A new polisher, the 12mm version of its biigger brother this is a high quality and great easy to use machine.  Dual action, random orbital, adjustable speed
1x V36 Optical Grade Cutting Polish 473ml/16oz  - the great all-around cutting-polish that eliminates light to moderate paint defects and imperfections from all paint types, then finishes like a fine polish.
3x Orange Hex-Logix Quantum Pad - the workhorse medium-cutting pad removes light to moderate defects like swirls, scratches, oxidation, and water spots to restore gloss, depth, and reflection to painted surfaces.  Three pads gives you enough to swap out and polish most cars before having to stop and clean your pads.
1x Polishing Pad Conditioner 473ml/16oz - lubricates buffing and polishing pads to reduce wear and tear, and produce superior polishing results.
1x Polishing Pad Cleaner 473ml/16oz - clean pads last longer and perform better.  Clean them the same day to avoid polish drying inside the foam.
1x Polishing Pad Brush -  to easily clean your pads properly with the pad cleaner, to make sure no old polish is left to dry inside the foam and create hard spots.
This Item is ordered per purchase. Hit the Notify me when Available Button and we will organize this item for you