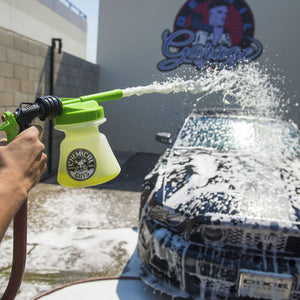 Make it snow like Christmas!  The Foam Gun Kit has everything you need, all you need is a normal hose.  Hungrier on soap than the premium  foam gun, and plastic not brass fittings, but wow so much more foam than its bigger brother!  All you need is a normal hose and its snowing!
You get:
1x R1 Foam Blaster Gun 
1x Mr pink Show Foam Car Wash
Have fun!  Cleaning your car, boat or Jet-ski  is much more fun with foam.  Want the kids to clean your vehicle?  Get one of these.  Its not work, its a foam party!
Want more snow?  Want a Ski field?  Try our "Make it snow!  Foam Party Kit!  You will need a water blaster for that one, the snow is epic!!
These also make the slickest water slides!  
Go on - get it "for the kids"!
This Item is ordered per purchase