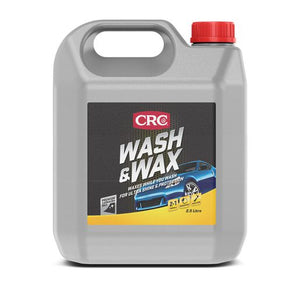 CRC Wash & Wax is a specially designed 'two in one' formula which combines a high quality cleaner with a protective wax to leave your car in the best possible condition.  The high quality foaming cleaner is formulated to be gentle on painted finishes yet strong enough to remove the toughest dirt and road grime. The wax concentrate coats and protects your car from damaging environmental conditions while creating a streak free, ultra shine finish.
Used regularly, CRC Wash & Wax make's wax polishes last longer by adding more wax as you wash. For best results wash once a week.
Biodegradable - safer for the environment.

Features & Benefits 
Two in one formula – Waxes while you wash
Cleans, shines and protects
Gentle on all painted surfaces yet tough on dirt and road grime
Quick and Easy
High quality foaming action
Streak free, ultra shine.
Phosphate free, biodegradable
Made in NZ