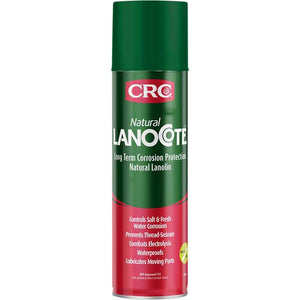 CRC LanoCote is an environmentally friendly product which exhibits superior corrosion protection and anti-seize properties. It offers outstanding, long-lasting protection in harsh conditions without compromising treated materials or harming the environment.
Environmental – Predator traps, predator proof fences, gates, fish passages
Livestock Transport – Protects crates and gates from corrosion. Lubricates and protects locks and hinges
Stainless Work – Prevents tea staining on polished stainless steel
Machinery and Components – Machinery operating under corrosive conditions, all threaded devices exposed to corrosion, machinery storage. Thread, screw and rivet type fasteners. Metal protection, machinery maintenance, chains and gears, anti-seize and release agent. Treated components dismantle years later with little effort
Marine – Rigging, boat trailers, springs and axles, external marine fittings, marine electrics. Outboards, cables, electronics, fishing equipment, rollers, trailers
Engineering – Anti-spatter properties make it ideal for welding, drilling and cutting. Wheel-valves, fire hydrant valves, flange nuts and bolts exposed to harsh conditions. Mould release and protection
Automotive – Alloy threads, battery terminals, tools
Home – Aerials and antennas, camping and sporting equipment, hinges, locks, garage doors. Galvanised underfloor fixings and bolts
Electrical – Protects PCBs, swich gear, inhibit oxidisations and salt crystallisation, corrosive atmospheres
Concrete – Use as release agent to keep shovels and other tools clean between uses. Inhibits corrosion on tools
Agricultural – Irrigation equipment, farm machinery, sawblades, firearms, cultivators, conveyors, slashers, equipment for aquacultural farming.