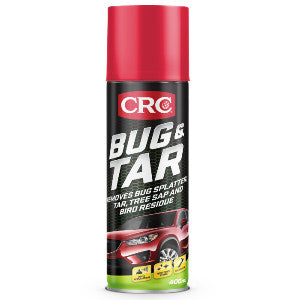 CRC Bug & Tar Remover is formulated to remove stubborn bugs, road tar, tree sap and bird residue from vehicle exteriors. Simply spray the affected area, leave for 5 minutes and wipe with a clean cloth. Nothing more than a simple bit of spot cleaning.
Our unique formula works by quickly penetrating the substance to leave a glossy shine that also helps repel future bugs, tar and grime.
CRC Bug & Tar Remover is suitable for use on painted panels, bumpers, chrome, some plastics, glass, glass headlights and is safe to use on clear coat finishes.