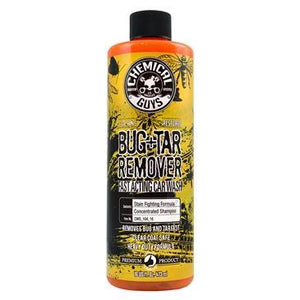 Bug & Tar Wash quickly breaks down bugs and tar to save exterior surfaces from permanent damage caused by corrosive insects and swirling and scratching caused by intense scrubbing during washing.
How to use it:
2 Bucket Method:
Add 2 oz. of Bug & Tar Remover to any wash bucket.
Proceed with 2 bucket method and wash vehicle to remove bugs and tar.
Rinse using clean water.
Spray Bottle: 
Dilute Bug & Tar Remover 6:1 using a spray bottle.
Spray directly on surface.
Wipe bugs away using a premium microfiber towel.
Rinse using clean water.
Avoid using product or leaving active product on the vehicle in direct sunlight.