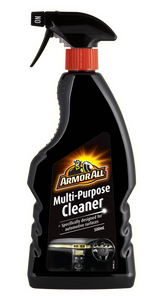 Armor All Multi-Purpose Cleaner is the all-in-one cleaning solution for that just detailed look. The balanced formula, scientifically engineered for your car's special needs and is designed to lift away dirt and debris without harming automotive surfaces.
The effective, multi-purpose formula is ideal for use on a variety of surfaces including the plastic, vinyl, fabric, carpet, clear plastic and much more.
Do not use on badly deteriorated or sun damaged surfaces. Do not allow to dry on surface. For carpet and fabric, test first on an inconspicuous area. For glass, clear plastic or painted surfaces, dilute 10mL to 1 Litre with water. When using undiluted product near glass or clear plastic avoid over-spraying on these areas.